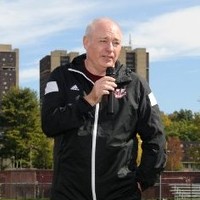 A veteran coach with a history of bringing success to collegiate programs, Fran O'Leary took over as the head coach of the University of Massachusetts Men's Soccer program prior to the 2015 campaign. O'Leary has experience at multiple levels of collegiate soccer and has spent time coaching at the professional level as well.
In 2017, O'Leary led the Minutemen to both the Atlantic 10 outright regular season title and championship crown as UMass became the first team to accomplish the feat since 1991 on his way to being named the A-10 Coach of the Year. UMass finished the season with a 15-4-3 record, including a 10-2-1 mark at Rudd Field. The Minutemen finished with four all-conference honorees, including first-team and A-10 Rookie of the Year Davis Smith, who earned first-team all-district nods and was named to the United Soccer Coaches All-America Third-Team as he became the first All-American for UMass since 2007.
During his four years at the helm of the Minutemen program, O'Leary's teams have qualified for the A-10 Tournament all four seasons, culminating with regular season and tournament league titles in his third season. UMass climbed from five wins in 2015 to seven in 2016 before winning 15 during the 2017 season, and advancing to the NCAA Tournament for the first time since 2008. The four consecutive A-10 tournament appearances has only been achieved one other time in the history of the UMass Men's Soccer program.
O'Leary has 18 winning campaigns and 269 career victories in 28 years as a college head coach, while averaging almost 10 wins per season. His teams have participated in seven NCAA Tournaments and reached the national semifinals twice.
The native of Dublin, Ireland is the 10th head men's soccer coach in UMass history.
Professionally, O'Leary spent two years with Toronto FC in MLS as the Assistant Coach and Director of Player Recruitment. He served as the top assistant coach and Director of Recruitment for Toronto FC of MLS from January 2013 to August 2014. The staff overhauled the roster and saw the team climb from 10th place to third in the Eastern Division during their tenure.
O'Leary served eight seasons as the head coach at Bowdoin College from 2005-2012. He accumulated a record of 74-39-14 with a .638 winning percentage and a pair of NCAA Tournament appearances.
One of the most distinguished coaches in Bowdoin history, his two best seasons in program annals came in 2009 and 2010. The 2009 squad posted an 11-4-2 mark and an NCAA Tournament berth, before following it up with an outstanding 15-2-4 mark in 2010, which included the team's first-ever NCAA Tournament victory and appearance in the Division III Final Four. That group won the NESCAC regular-season title and lost the tourney title game on penalty kicks before its run to the national semifinals.
The 2010 team collected 12-consecutive victories and 11 shutouts on the year.
O'Leary led the George Mason team from 2001-04, collecting 34 victories and mentored 10 All-Conference selections and a pair of Freshman All-America honorees John O'Hara (2001) and Damian O'Rourke (2002). That duo was a big part in helping the Patriots reach the CAA championship game in 2003 following a third-place regular-season finish that marked the highest in six years.
Prior to his time at George Mason, O'Leary was the head coach at Dartmouth College. He guided Dartmouth to a 56-48-14 record and two NCAA College Cup appearances in seven seasons from 1994-2000, including a 12-6 record and Ivy League runner-up finish in 2000. Dartmouth was 10-4-4 and reached the second round of the NCAA Tournament in 1997 as O'Leary was named Division I Coach of the Year by the New England Intercollegiate Soccer League.
O'Leary spent two years as the head coach at Kenyon College from 1992-93. He took over the Kenyon program in 1992 and compiled a .800 winning percentage with a 32-4-4 mark. He led the Lords to the North Coast Athletic Conference regular-season crowns each season and was named the Co-Coach of the Year in 1992. O'Leary was named the NSCAA Great Lakes Region Coach of the Year after leading Kenyon to its first ever No. 1 national ranking and the 1993 NCAA Semifinals. Mark Phillips set the league points (59) and goals (25) records that season on his way to the Player of the Year accolades.
He got his first head coaching job in 1989 at Division III Elmira College in southern New York. He led the Eagles to a 38-11-2 record over three seasons. He inherited a team with a 3-14 record and turned it around into a 13-4 record his first year.
A graduate of Thomas Edison State University with a Liberal Arts degree, O'Leary began his coaching career as an assistant coach at Boston College form 1986-89 and holds a NSCAA Advanced National Diploma in addition to his UEFA "A" Level License.